Country Piano
web: http://countrypiano.com/
phone: 607 215 6632
location: Watkins Glen, New York
email: [email protected]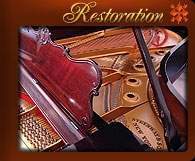 About Us
Restoration & Refinishing for Steinway, Mason Hamlin and other Antique and Vintage Pianos

Welcome to Country Piano, specializing in high quality piano restorations and also home of some of the world's finest Steinway and Mason & Hamlin restored pianos. We carry a huge selection of both brands, some fully restored and some awaiting restoration. We invite you to book an appointment to visit our showroom and restoration center at 108 Willow Dr., Watkins Glen, 14891

Piano showroom & warehouse fully stocked with over 70 "Golden Age" Steinway grand pianos for sale...

We offer: soundboard replacement, bridgecap replaceent, pinblock duplication, restringing, action regulation & restoration, ivory keyboard restoration, QRS Pianomation player piano CD units installation, concert level tunings & voicing, refinishing, and piano moving services to name a few.

Piano restoration center: From new soundboard installation to custom piano refinishing, we will restore your piano back to its former glory.


Whether you are in the market to buy a restored Steinway piano or a used Mason & Hamlin piano or would like to have your own piano restored, we can help! Our fully insured piano movers can pick up and deliver anywhere in the US. Please browse through our website and view our large selection of pianos, as well as our "before & after gallery". Make an appointment today. You won't be disappointed!